Hotels in Chernogolovka
Hotel for Chernogolovka Scientific Centre ("Hotel" on the map below,)
Address: Shkolnyy b-r, 1А Chernogolovka Moskovskaya oblast', Russia
Lunches: Free lunches will be provided for all registered participants every conference day 12:50pm at Bolshaya Gostinnaya,
Address: Shkolnyy b-r, 1B Chernogolovka Moskovskaya oblast', Russia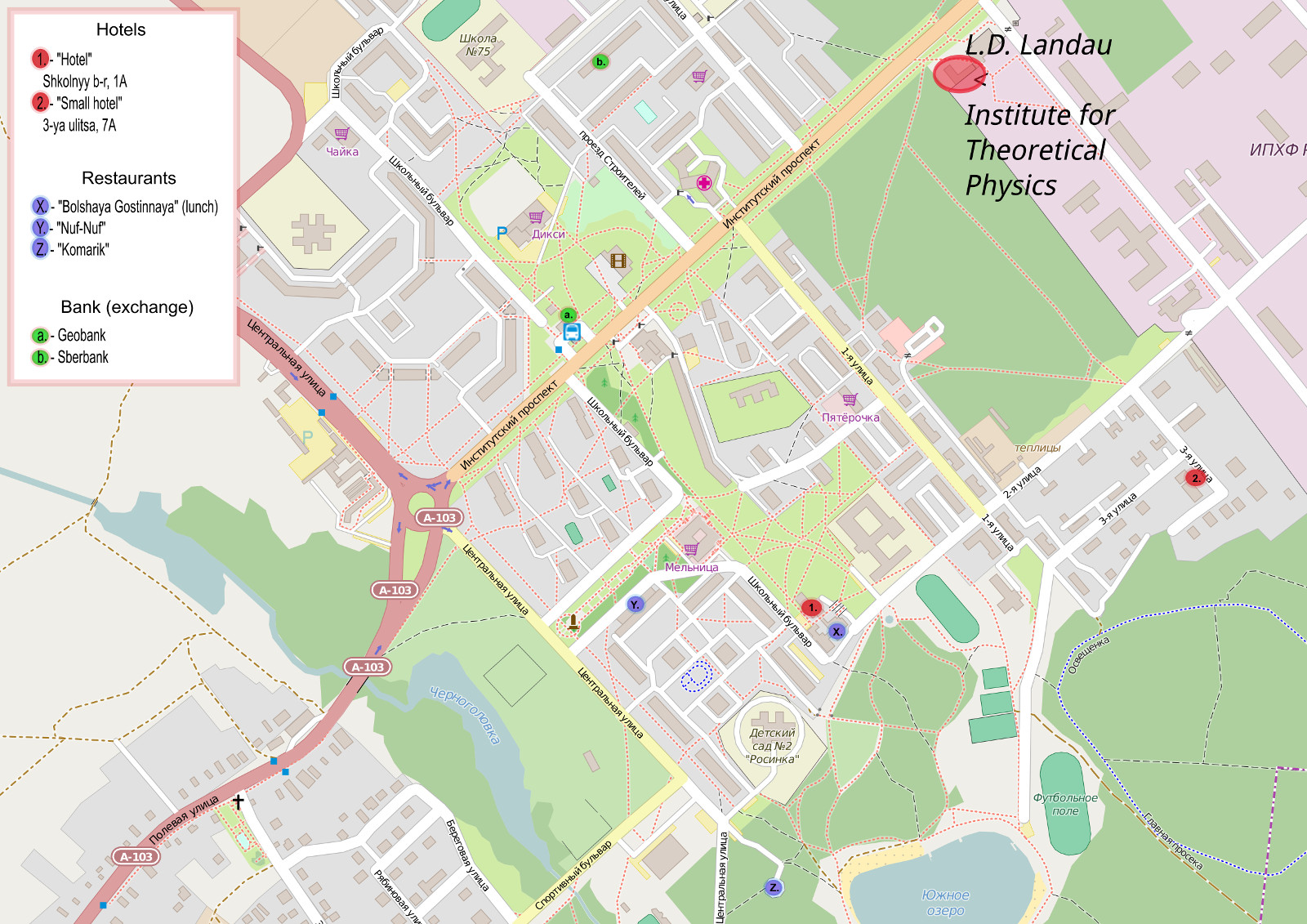 View large map
Travel and Transportation
The conference will be held at the
Landau Institute for Theoretical Physics
. Address:
Prospekt Akademika Semenova, 1, Chernogolovka, Moskovskaya oblast', Russia
(see the location on the map above)
as well as see the institute location photos.
For those, who will arrive on May the 21th morning a special (Institute) bus in Moscow will be arranged. The bus will wait at the crossing of Shchelkovskoe shosse and ulitsa 11th Parkovaya just on the other side from the main coach terminal (metro station "Shchelkovskoe"), approximately 300 meters from this corner to the direction of Moscow region (see point "1" on the map). Our bus will depart at 7:30 am. On the bus window you can find the table "Solitons, Collapses and Turbulence".
Another way to reach Chernogolovka from Moscow is to take a regular shuttle no. 320 or buses 320 (to Chernogolovka) or 360 (Moscow-Dubrovo, exit at Chernogolovka) at the coach terminal (metro station "Shchelkovskoe", point "2" on the map). The bus fare is 100 rubles. We do not recommend you to take a taxi, the price can be up to 1200 rubles and it has to be negotiated in advance.